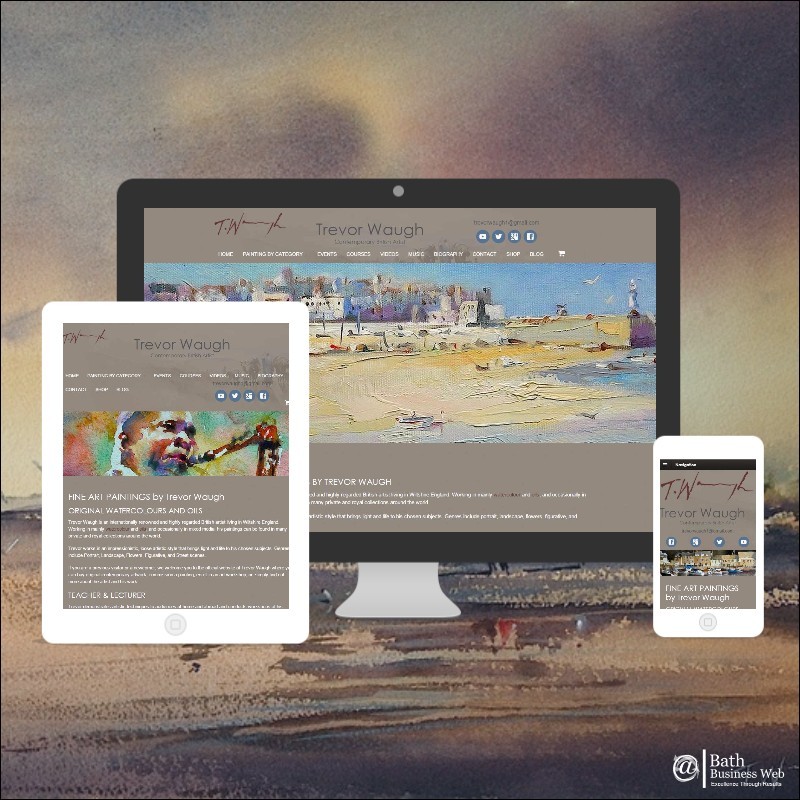 Who is Trevor Waugh?
Trevor Waugh is an internationally renowned and highly regarded British Artist, his paintings can be found in many private and royal collections around the world.
Trevor's Brief:
"To Design and implement a Fine Art website showcasing the paintings and products of Trevor Waugh. Retail and biographical inclusions, and considerations for further expansions."
Trevor is a fantastic Artist and we felt honoured to be working with him, we really wanted to create the best possible website to portray his art, we knew understanding the nature of Trevor's business was the core to getting this website right.
Aesthetics were high on the agenda, with the images of Trevor's work needing to look perfect but loading quickly, this meant creating small images without degradation. Trevor's work sells internationally and his E-commerce site needed to understand the variables and logistics connected with purchasing and shipping worldwide. Trevor undertakes many artistic events and shows worldwide, he also runs a successful YouTube channel. Understanding how these activities affect his website traffic is key to understanding how we can improve his future online presence, close analytical tracking is, therefore, essential.

Process:
"The meetings were highly enjoyable, with lots of creative input, happy atmosphere and always filled with possibilities. Thanks to the high- energy team who are happy and creative, great support, instructive and insightful tuition, nothing was too much trouble with the project. Wonderful and sensitive handling of the client's requirement's and a cracking good sense of humour!" 
Adrian couldn't wait to get his hands on this project having studied fine art himself he had a good understanding of the art world. Through their various meeting's Adrian and Trevor became good friends, with Adrian sensitively creating a site that works on many levels, encompassing Trevor's art and music, allowing the user to understand Trevor, find information about workshops  and easily purchase artwork. It was also important for Trevor to be able to regularly amend and update his site with new artwork or remove purchased pieces.

3. Finished project:
"We are very happy with the result and have a universal site, rich presentation meeting our current needs. Top class design and a good showcase window. It's an on-going show and we look forward to working together with Bath Business Web in the future." 
We love the finished site and have loved working with Trevor and Darlas and look forward to their future visits.